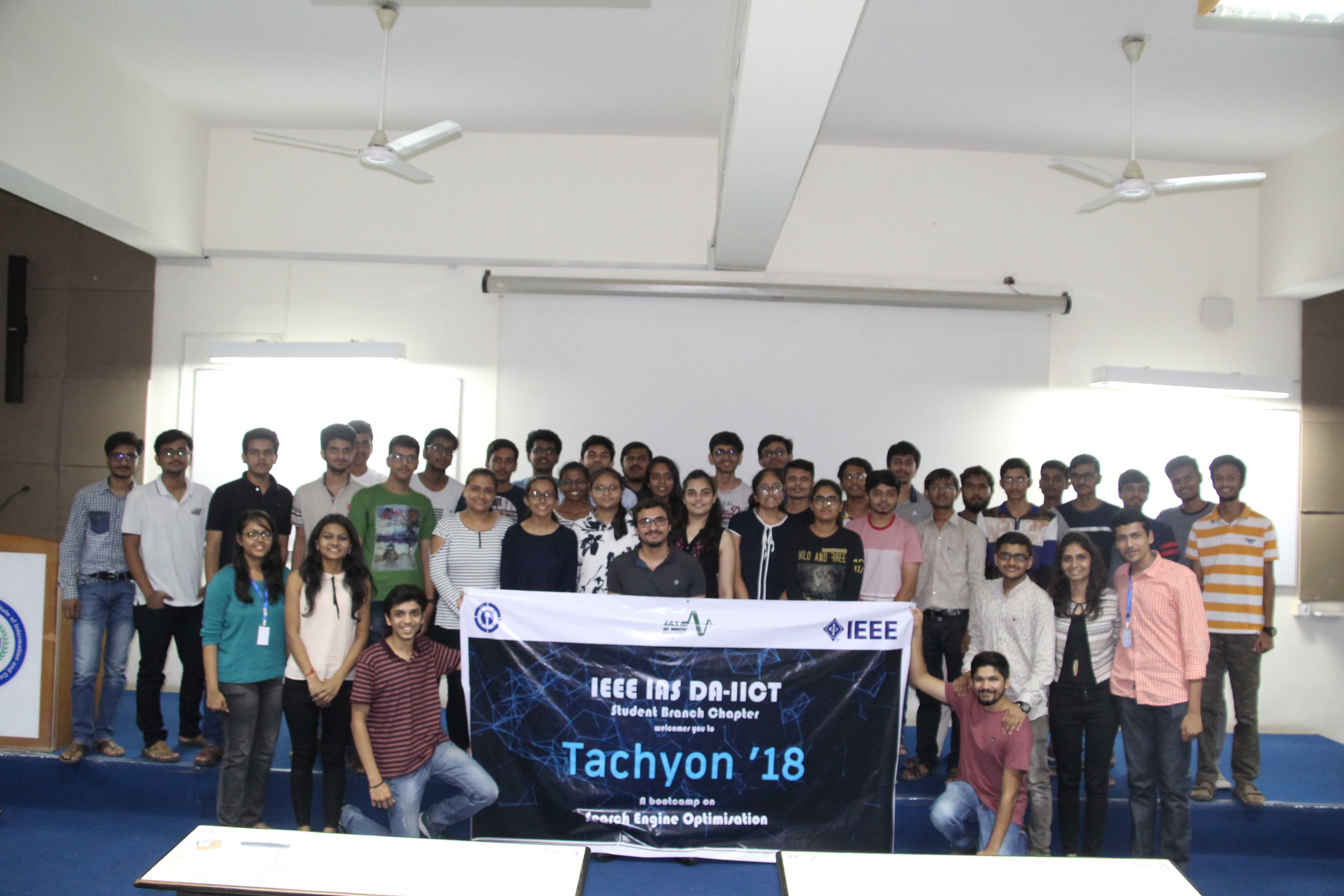 IEEE IAS DA-IICT Student Branch Chapter organised a highly comprehensive, skilled and applied bootcamp on 15th September and 16th September 2018. The bootcamp which was one of its kind focused on Search Engine Optimisation (SEO) along with Web Crawling and Web Scraping.
The bootcamp with a participation of about 50 enthusiastic students from different colleges across Gujarat, was an informative and fun initiative taken by IAS DA-IICT to make students aware about the importance of SEO. With a lot of participation from a week ago, we also had a few on the spot registrations on the day. Held in Mini Auditorium(CEP 102), the bootcamp was conducted in four sessions, each dealing with different concepts spread throughout the two days.
Before the start of the bootcamp, all the participants were provided with the registration kits. The event was commenced with an inaugral speech by Prof. Anil K Roy, followed by the first speaker, Mr. Jaydip Parikh, CEO of Tej SolPro. He started the session by giving a detailed information about Search Engine Optimisation. The concepts like how Google works, how the pages are filtered were discussed. After the lunch break, the stage was taken over by Mr. Virat Shukla, the founder of V2 Infotech. He Conducted a hands-on session about the importance of Google Analytics and how the meta data can be used for the implementation of SEO.
The very next day was started again by Virat sir, continuing the topic that he had left the day before. He guided the students on how to manage web traffic on a website and how to attract the users. After this session, there was a lunch break, which was effectively used by the participants to discuss about their ideas and doubts. They also used the exclusive photo booth setup and took various photographs to commemorate the event.
After the lunch, the bootcamp proceeded towards Web Crawling and Web Scraping which is a core part of SEO. The post-lunch session was conducted by Pratik Machchar Sir, the founder of Vyaap Technologies. The session was a very interactive one, with the students showing extreme enthusiasm in learning and quenching their curiosity. The student's conceptual questions were resolved and the various in depth details of the concepts elucidated, by Pratik Sir who has mastered endless technologies. Lastly the actual implementation part was accomplished by the students using Java as the programming language. Coming a full circle, having learned all the concepts and implementing them first-hand the session came to an end.
Tachyon'18 officially came to an end after a photograph of all the participants with IEEE IAS DA-IICT ExeComm. The participants were provided with pizzas after the end of the bootcamp, which was followed by networking sessions. A successful event, Tachyon'18 gave all of us brilliant knowledge along with wonderful memories.